SpareBank 1 Naeringskreditt Covered Bond Issuer
SpareBank 1 Naeringskreditt (Spacom) is a covered bond issuer and a sister company to SpareBank 1 Boligkreditt (Spabol). The two companies share one management team but have different boards of directors. SparBank 1 Naeringskreditt is, like Boligkreditt, owned by banks in the SpareBank 1 Alliance and its covered bonds are rated Aaa by Moody's. Naeringskreditt's cover pool consist of Norwegian commercial mortgages alongside liquid assets (whereas Boligkreditt's cover pool is based on residential mortgages). Please see the tab "Credit Policy" above to learn more about the assets in the Næringskreditt cover pool.
---
The company's purpose is to acquire first lien Norwegian commercial mortgages originated by the owner banks in the SpareBank 1 Alliance and finance these through issuing covered bonds.
Investors in SpareBank 1 Naeringskreditt's covered bonds in NOK, EUR or SEK enjoy the safety of a high quality cover pool.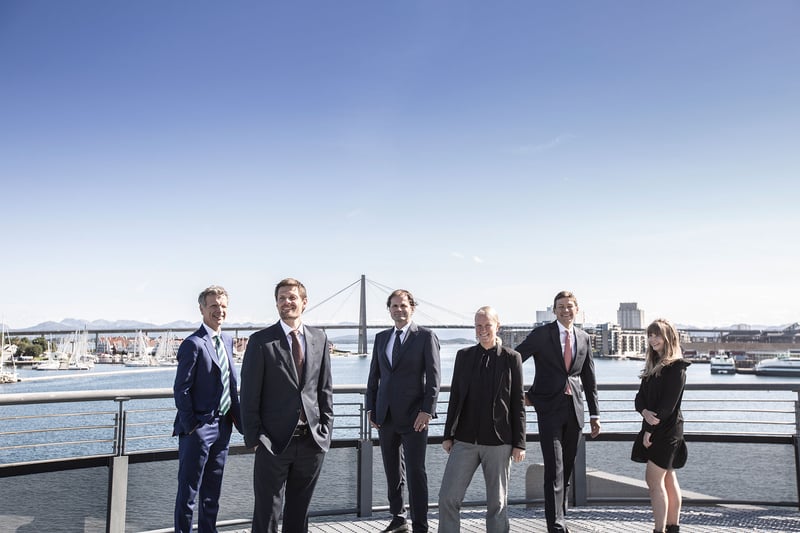 The entire SpareBank 1 Boligkreditt and Naeringskreditt team with the Stavanger harbour in the background
The covered bond funding entity is of high strategic importance to the members in the SpareBank 1 Alliance. The Alliance consists of savings banks with a dominant share of mortgage retail lending as their core business. All of the business takes place within Norway and most SpareBank 1 banks trace their history to the 19th century. The Alliance's banking branch network is Norway's most extensive and the wide dispersion of banks ensures a well distributed cover pool.
As a specialised credit institution, SpareBank 1 Naeringskreditt must fully comply with regulations applicable for all banks (including the existing and proposed Basel regulatory framework). The regulator in Norway is the Norwegian Financial Services Authority (Finanstilsynet).
2008
The SpareBank 1 Alliance banks jointly acquire BN Bank, a lender specialized in commercial real estate in Norway.
2009
SpareBank 1 Naeringskreditt is established in order to access funding under newly offered Norwegian covered bond swap facility, operated by Norway's central bank as a response to the tightening general bank funding conditions after the events of 2008 (Lehman bankruptcy). The cover pool consist exclusively of commercial mortgages from BN Bank at this time.
2010
Other large SpareBank 1 banks start work to qualify their commercial real estate loans for the Naeringskreditt cover pool. Naeringskreditt obtains an initial credit rating for its covered bonds from Moody's.
2011
SpareBank 1 Naeringskreditt issues its first covered bond in the market, outside of the Government swap facility (which closed for further lending in the 2 half of 2009): a 4 year NOK 1 billion issue.
2012
Both SpareBank 1 SR Bank and SpareBank 1 SMN have now sold commercial mortgage loans to Naeringskreditt, the Company's issued debt approaches NOK 11 billion.
2013
Moody's upgrades Naeringskreditts covered bonds to Aa2 (September 2013). Total debt issued is just over NOK 13 billion at the end of the year and SpareBank 1 Nord Norge (SNN) and Sparebanken Hedmark have also now sold commercial mortgage loans to the cover pool. 2 SEK bonds are sold; a 3 year and a 5 year maturity for a 1 bn SEK each.
2014
First EUR bonds are issued, in the form of private placements, both as registered covered bonds (NSV) and as bearer bonds under the Company's new EUR 3 billion Medium Term Covered Note issuance programme. As a share of the Company's outstanding debt of NOK 15.6 billion, 6% is in EUR, 15% in SEK and the remainder in NOK. All the government swap facility bonds are repaid and replaced with market funding. Moody's upgrades the covered bonds to Aa1 (March 2014). SpareBankenen 1 Nordvest has joined other Alliance banks as a contributor of mortgages to the Company's cover pool.
2015
Naeringskreditt covered bonds are upgraded to Aaa from Aa1 as a result of the change in Moody's ratings methodology with regards to the anchor point for the covered bond rating. BN Bank changes its strategy from commercial lending to retail. BN Bank is the largest bank contributing mortgages.
2016-2020
After the shift in BN Bank's strategy, the bank's mortgages in the cover pool steadily declines from 80% of all mortgages (2015) to 40% (2020). Other banks in the SpareBank 1 Alliance transfer more mortgages, but pool volume remains stable at around NOK 10 billion. Funding volumes are commensurate with that.
SpareBank 1 Naeringskreditt's Covered Bond Ratings:
Moody's: Aaa
---
Credit ratings for our parent banks
| Sr. Unsec. Ratings | Moody's |
| --- | --- |
| SpareBank 1 SMN | A1 / P-1 |
| SpareBank 1 SR-Bank | A1 / P-1 |
| SpareBank 1 Nord-Norge | Aa3 / P-1 |
| Sparebank 1 Østlandet | Aa3 / P-1 |
| SpareBank 1 BV | A2 / P-1 |